| | | |
| --- | --- | --- |
| | 2 OF 8 | |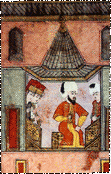 For all that we say about Ottoman decline, the seventeenth and eighteenth centuries were periods of relative prosperity. As a result, however, the population of the Empire doubled .This eventually produced endemic unemployment and famine when the economic resources of the country could not support such a large population.
The wealth of the Ottomans was largely due to their presence on trade routes. The Empire stood astride the crossroads of all the continents and sub-continents: Africa, Asia, India, and Europe. However, European expansion created new trade routes that bypassed Ottoman territories. Vast amounts of revenue began to disappear from the economy. Because the state collected tariffs on all good passing through the Empire, the imperial government itself lost vast amounts of its revenue.
In addition, the Ottomans did not industrialize in the way Europeans were doing in the eighteenth century. Remember: industrialization isn't mechanization . It principally involves a complete overhaul of labor practices. The Ottomans retained old labor practices, in which production was concentrated among craft guilds. Increasingly, the economic relationships between the Ottomans and the Europeans shifted gears. Europeans increasingly bought only raw materials from the Ottomans, and then shipped back finished products manufactured in Europe. Since these finished products were produced with new, industrial methods, they were far cheaper than similar products produced in Ottoman territories. This practice effectively destroyed the Ottoman craft industries in the late eighteenth and early nineteenth centuries.
| | | |
| --- | --- | --- |
| | 2 OF 8 | |