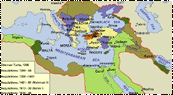 | | | |
| --- | --- | --- |
| | 2 OF 5 | |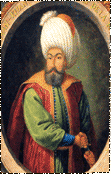 To show his gratitude, the Seljuk Sultan Kaihusrev II (Kaikosrau) gave Ertughrul a strip of land encircling the battlefield. The land extended from Eskic;ehir along the Sakarya (in antiquity: Sangarios) Valley. It corresponded roughly with the Roman province of Bithynia which the Seljuks had taken from the Byzantines about a century previously
Osman I founded a small empire there, which he called "Memalik Osmanya", or "The Principality of Osman". He made Bursa its capital in 1305, captured Gemlik in 1326 and thus laid the foundations of what was to become the Ottoman Empire.
The Osmanli Kingdom of Bursa flourished quickly, while the Empire of the Seljuks of Rum declined. Eventually the latter was incorporated in the Ottoman Empire so that the tomb of the Seljuks became the cradle of the Ottomans. The latter, who had come from Khurasan, soon occupied the entire Mediterranean coast of Asia Minor. But their expansion was not yet at an end. The goals they had set themselves were the conquest of the Balkans and the capture of Constantinople. This task was undertaken by Osman's son, Sultan Orhan (1326-1359).
He had already conceived the notion of attacking "the far bank" of the Bosporus from Bursa, although he had established firm ties to the Emperor Johannes VI Kantakuzenos, whose daughter he had married. In 1356 a small band of about sixty Turks on rafts made of treetrunks lashed together with ropes landed at Gallipoli (Gelibolu) on the European side of the Dardanelles. That very morning the walls of the fortress had been destroyed by an earthquake; therefore nothing prevented their entry into the city. But the Turks' victory was not merely due to fortunate circumstances. It resulted, rather, from the creation of a standing army which was to make the Ottoman Empire the greatest military power of the time. Until then the Ottoman troops had consisted of a cavalry, which could be raised at need.
| | | |
| --- | --- | --- |
| | 2 OF 5 | |