| | | |
| --- | --- | --- |
| | 2 OF 3 | |
HAREM, AND THE OTTOMAN WOMEN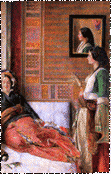 After the Valide Sultan, the Kadins were next in the harem hierarchy to enjoy great status. Their status was even higher than the Sultana's (Aunts and sisters of the current Sultan) as they were accorded higher stipends. The Kadin's higher status arose from the fact that she was the mother of the potential future sultan. Murad III's favourite Safiye kadin received stipend of 700 aspers a day, while his sisters Ismihan and Geverhan Sultans received 250 and 300 aspers a day, respectively. Murad's aunt Mihrimah Sultan received the highest stipend (600 aspers a day) amongst all of the royal females descending from the previous Sultan.
Non-haseki or non-favourite concubines tended to receive stipends that were greatly reduced from those of the haseki Kadins. This was demonstrated by the fact that at the end of Selim II's reign, the haseki Nurbanu received 1,000 aspers a day, while Selim's other consorts, each the mother of a son, received only 40 aspers. As the Sultans' attention turned away from government, many of the harem women were able to manipulate the Sultan into raising their stipends in order to be able to purchase many of their jewels and furs.
By the reign of Ibrahim (r. 1640-1648), the role and stipend of the royal haseki had been diminished and instead the role and influence of the concubines had moderately increased as indicated by their stipends of 1,000 to 1,300 aspers. Other odalisques in the harem that served as general servants received stipends ranging from 13-200 aspers.
| | | |
| --- | --- | --- |
| | 2 OF 3 | |