| | | |
| --- | --- | --- |
| | 2 OF 6 | |
HAREM, AND THE OTTOMAN WOMEN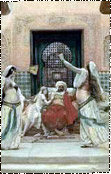 Many of the concubines and odalisques of the Imperial harem were reputed to be among the most beautiful of women in the Ottoman Empire. Young girls of extraordinary beauty were sent to the sultan's court, often as gifts from the governors. Numerous harem women were Circassians, Georgians, and Abkhasians. They were usually bought from slave markets after being kidnapped or else sold by impoverished parents. Many Georgian and Circassian families encouraged their daughters to enter concubinage through slavery, as that promised to be a life of luxury and comfort. All slaves that entered the harem were termed odalisques or "women of the court" - general servants in the harem. Odalisques were not usually presented to the Sultan. Those that were of extraordinary beauty and talent, were seen as potential concubines, and trained accordingly. They learned to dance, recite poetry, play musical instruments, and master the erotic arts. Only the most gifted odalisques were presented to the Sultan as his personal gedikli (maids-in-waiting). Generally, odalisques would be assigned as servants to the oda (or court) of a harem mistress. For example, the Mistress of the Robes, or the Keeper of Baths, or the Keeper of Jewels, etc.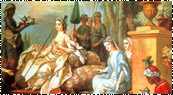 It was possible for these odalisques to rise through the ranks of the harem hierarchy and enjoy security through their power and position.
The most powerful women in the harem were the Valide Sultan and the Kadins. The Valide Sultan was responsible for the maintenance of order and peace inside the harem. Being a female elder in the Imperial family, the Valide was expected to serve as a guide and teacher to her son by educating him about the intricacies of state politics. Often, she was asked to intervene upon the Sultan's decisions when the Mufti (head of the Muslim religion), or the Viziers (ministers) felt that the Sultan may have made an erroneous decision.
Kadin's were the Sultan's favourite women. Tradition allowed only four principal Kadins but unlimited number of concubines. Kadins were equivalent in rank to that of a legal wife, and were given apartments, slaves, and eunuchs. For example, during the reign of Selim II (the Sot), his favourite, the bas kadin Nurbanu had an entourage of one hundred and fifty ladies-in-waiting. The amount of properties, clothing, jewelry, and allowances given, was all-proportional to the affection the Sultan held for them.
| | | |
| --- | --- | --- |
| | 2 OF 6 | |