| | | |
| --- | --- | --- |
| | 5 / 5 | |
The Code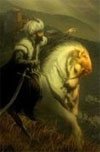 One of the most important developments in Mehmed II Era in Ottoman, was the Code of Law (Kanunname) which commanded establishing various organizational positions, produce a form of law that suited the growing empire's geography and state organizations after the conquest of Constantinople.
It is always argued that The Code of Sultan Mehmed's legalizing fratricide. A policy of royal fratricide was introduced by Sultan Mehmet II whose grandfather Mehmed I had to fight a bloody civil war against his brothers to take the Ottoman throne. As in the Sultan Mehmed II Code the majority of the Ottoman scholars permitted it as well. Sultan's Code defended fratricide this code as using for the continuation of unity of the state and prosperity of people. In his codes, Mehmed clearly legitimized a sultan's executing his brothers for the sake of the imperial order.
Sultan II Mehmed's Fratricide Code in Turkish as in the below:
"Ve her kimesneye evlâdımdan saltanat müyesser ola, karındaşların nizâm-ı âlem içün katl itmek münâsibdir. Ekser ulemâ dahi tecviz etmişlerdir. Anınla âmil olalar"
By his "Code" Sultan Mehmed II created new law codes dealing with administrative and criminal justice, military affairs, dicipline of statemen and the organization order for religious hierarchy.
| | | |
| --- | --- | --- |
| | 5 / 5 | |